State of the art LED lights
---
The latest LED technology has a particularly high luminous efficacy.
The LEDs consume around 50W less power per lamp head than comparable systems.
SES high-performance double chip LEDs allow optimal control of light.
The Pixel-Fail-Over-Hopping Sytems allows an extended operation time.
Proprietory lens technology
---
SES proprietary lens system focuses the light output where
it is required,minimizes unwanted stray light and thus contributes to further increase in effciency.
The lenses are available for SE or ME class.The polycarbonate lenses are protected by a safety glass.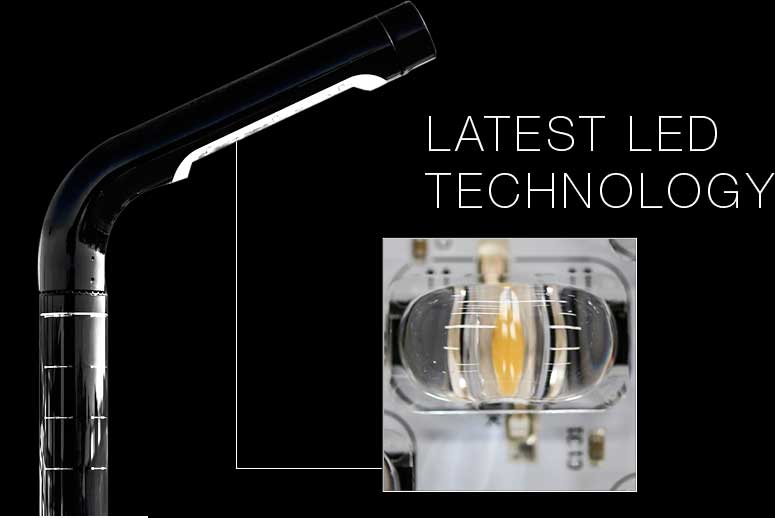 Optimum light output
No light pollution
LED efficiency
up to 160 Lumen /Watt
Colour temperature
2,500-4,000K
Easy brightness control
(100% dimmable)
VERTICAL POWER
TUBE PV-MODULE
---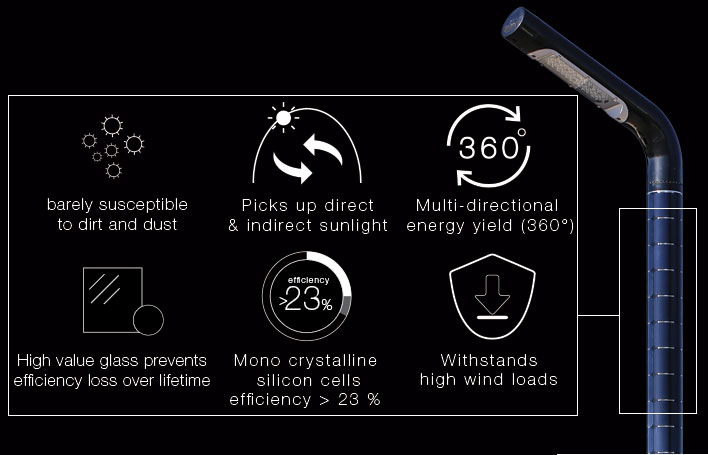 SMART CONTROL
AND ENERGY MANAGEMENT
---
 
192° IP-Camera
remote control
"Remote energy management"
Maximum autonomous operation
Self-learning energy management and light optimisation
---
Customisable
light profiles
Integrated
brightness sensor

BATTERY
---
Battery is mounted in the pole,
no excavation work necessary.

RESISTANCE TO ENVIRONMENTAL
IMPACTS AND VANDALISM
---
Street pole hot-dip galvanized
and powder coated with high finishing.
"Self-cleaning"
vertical PV Module.
LED unit coated with aluminium
for anticorrosion protection
Wind load resistance (36m/s)
Settings cannot be changed without the provided service box
READY TO INSTALL CAMERA
---

180° Fisheye camera  can be
mounted in the lamphead
Fisheye lens for wide area surveillance
Excellent resolution and high contrast
High protection grade ( IP66 / IP67)